Applying Riding Lessons to Life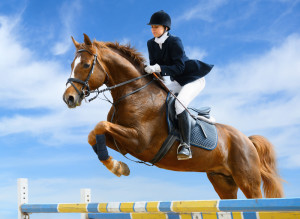 I have been accompanying my child, Elizabeth to the equestrian stables for about 1.5 years but I have yet to really pluck up the courage to overcome my fears of these great beasts and decide to commit to serious riding lessons myself. I have ridden a few times to fill up the time when Elizabeth is taking her lessons but after the one time I was thrown off the school horse, I never felt motivated enough to get back to the saddle and ride. It becomes too easy to quit.
Recently, I signed Elizabeth up for a series of intensive horse clinic sessions with renowned horse trainer Catherine Birmingham. Elizabeth pleaded to her parents that riding is the only sport she loves and can be good at, and she even wants to enter competitions in the years to come when she becomes "good enough." We obliged since we wanted her to be active in at least one sport, because we are after all Asian parents who have an insatiable need to keep up with the Jones, though it is so ridiculously expensive. Now, throughout the clinic, this is what I keep hearing, these pointers being drummed into little Elizabeth like a mantra.
If you cannot control the horse to go to the direction to where you want to go or do what you want it to do, you have no hopes of entering any competition.
If you don't come to the stables as many times as you can, to just clock in as much riding times as possible, you will never learn to master riding, period.
If you don't persevere, and keep telling the horse what you want (be it with the whip, with your voice or with your body movements, heart, whatever), the horse will just continue to do whatever she wants and she will never learn that you are the master.
I love the way Ms Catherine points out the little truths so clearly and simply, though trying to adhere to each of these pointers will take time, effort, perseverance and a healthy dose of faith! I was just thinking that these pointers are also very true to how to take control of my own life. So if I translate the 3 simple pointers pertaining to Elizabeth's riding lessons, they could be applied in my life as such:
If I cannot control my personal "shit" and bring whatever that is holding me back from being the best that I can be into absolute subservient control, I have no hopes and business of competing in this dog-eat-dog world. This includes willing myself to NOT be afraid of my personal "horse."
I can never master anything if I don't keep persevering at it and keep turning in the "volume of work" rather than be obsessed with the "quality of work." This includes dealing with rejection of the work I am turning in and just grit my teeth and plough through it. For example, if I were an aspiring writer, then just write as much as I can, as often as I can and don't let rejection from publishers deter me from continuing to write as much and as often as I can. I need to do justice to the "volume test," i.e. just do the grunt work and practice, practice and practice.
To keep my personal stumbling block in check and under control, I also need to know what I REALLY want out of life. Very specifically, I need to will it to being, putting what I truly desire into a sharp focus in my line of sight all the time, if I truly want to master the life issues that are plaguing me. For example, if I have always been struggling with inertia of starting and persevering in something, particularly in the face of adversity, then as part of controlling this inertia problem, I need to also keep telling myself what I really want, instead of just focusing on what I DON'T want.
Simple pointers, profound truths, challenging implementation (though not impossible). Can you see how these truths can be applied in YOUR life? What are your obstacles? What are your excuses then?